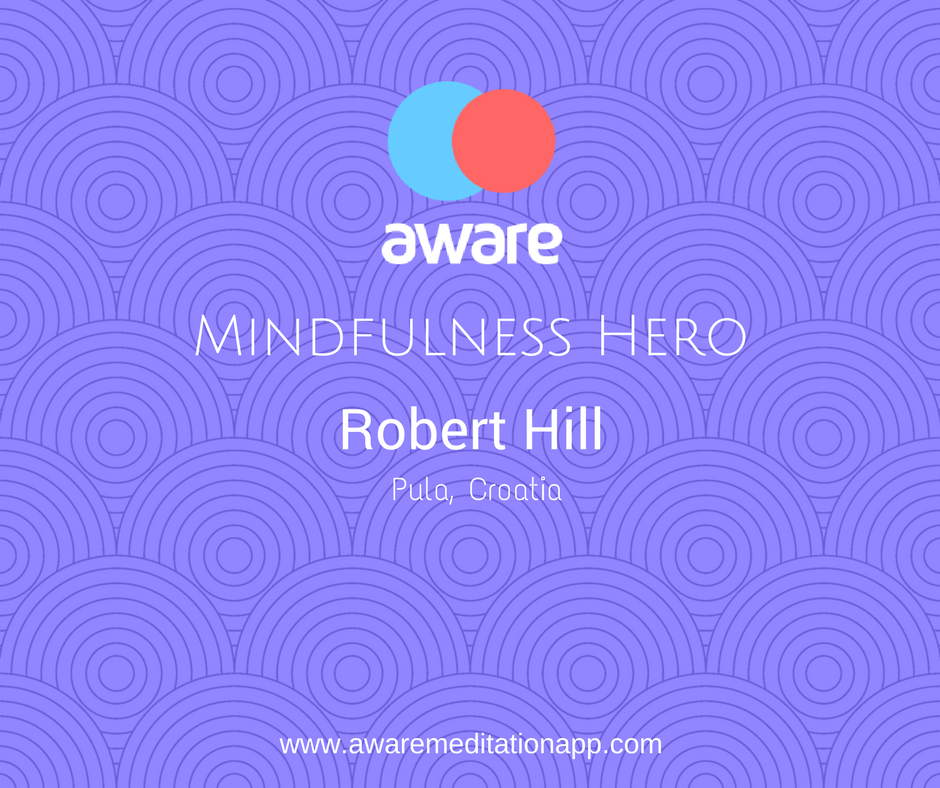 20 Apr

Robert Hill Talks About How Aware Helped Him Form A Meditation Habit!

Our "Mindfulness Hero" Robert Hill opens up about his journey on how he overcame anxiety and depression. In the midst of darkness, he took the right advice and transformed his life to shine brightly with enlightenment and knowledge about his mind and how it reacts to circumstances.

His story is an inspiration to all of us who want to change our thinking and live healthy, productive and happy lives.

Let's read about his journey:
How have you made meditation a part of your life?

I simply decided that meditation should be a habit like brushing my teeth. I meditate in the morning and before going to bed.

Aware meditation is only 20 minutes, which is great for changing your thinking patterns and has also helped me form a habit
What changes has meditation brought to your life?

Aware meditation has brought me many changes!

Usually, before I started Aware meditation when something happened to me, I would always react in a certain negative way automatically. Now when something happens, I can control the way I react and I can choose not to get angry, or sad. Meditation has helped me realize that I need to give things some time before I react.

My mind is more calm, when any negative thoughts come which used to make me feel anxious, I just remember my breath in that moment, and the thought goes away. I have been able to quit Xanax and calm down by myself. I even discovered that my heart rate is lower now.

Also, I am now living in the present moment,  I used to think a lot about the past and the possible future,  and I was not living in the present moment. With meditation, I am now able to notice small things around me which I didn't notice before.

I feel more alive.

I eat slower.

When I do something, I am more focused on what I am doing and a lot more calmer.
What are the tips or advice you would want to share with beginners?

For beginners, I would ask them to buy the app.

Aware will teach you how the mind works, and how to handle it. It will positively change you!  Even though I am in the second course, I could already feel the changes much earlier on- just after 10 days.
How has Aware helped you in your journey?

This is my journey:

I was diagnosed with anxiety and depression,  I was not able to work and function and had to go on a 5 month sick leave to work on myself.  My psychiatrist told me I should try meditation to help my negative thinking,  so I found some videos on YouTube with very positive information about meditation, and I listened to many talks from Sadhghuru explaining why everyone should meditate.

However, it is hard without a coach to help you,  so Aware is the perfect coach to guide you and teach you techniques to re-calibrate your mind. I understood that the mind should work for you and not against you.

The guided voice in the Aware app is very very pleasant, and I like how he explains how the mind works.  Now I see that most people don't even know how to handle their mind, including me. But, Aware taught me how to handle my own mind.